Written on 11 Nov 2015 in Press Mentions
Software is the tool most engineers will use every day of the careers in some form, almost irregardless of their sector or discipline. Software is used to solve problems, design products and buildings, operate infrastructure and test and measure. It's often the most advanced available.
Yet access to these software tools is lacking in schools. Barriers, such as cost and lack of expertise, prevent the use of software as an asset to attract people into the profession. Engineering software companies are helping to meet this challenge.
Chris Hayhurst, European consulting manager at Mathworks, says the software company sees supporting engagement with young people as part of its "social mission". The company is working not just with people at degree level, but also children at primary school level and up.
He says: "The more progressive institutions will already have a license of our software. But we are providing a mix of funding to keep organisations and projects going and also direct hands-on involvement. We learn a lot from how students interact with our software, and it's a great opportunity for our engineers to get out into the community."
Such projects and organisations are critical to communicating an understanding of what an engineer does and exactly what engineering is when promoting the profession to a younger audience.
Mathworks is involved with both small and large initiatives. The Cambridge Science Centre opened in 2013. The Centre features hands-on exhibits, experiments such as simulating shooting a teacher out of a cannon, intended to make science and maths problems engaging to younger students.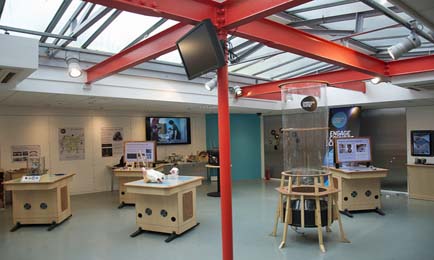 Inside the Cambridge Science Centre

Andy Donnelly, head of development at the Cambridge Science Centre, says the first centre has been a resounding success and they are planning to establish a network of similar centres across the UK. "The model can be exported to any other region," he says. "We target the end of primary / start of secondary school age range. It's a transition age, particularly with girls."
The other end of the spectrum is large and permanent centres, places like London's Science Museum. The Museum attracts more than three million visitors a year and has an outreach program that targets 100,000 students annually. Part of the challenge is keeping exhibits current and fresh, and Toby Parkin is the lead curator of the new interactive gallery at the Science Museum, due to open in 2016.
"Engineering and maths can be hard to define, so it helps when you can link it solving a problem. We want to broaden out the perceived value of science and engineering. Our aim is to keep people doing triple science at school, to keep their options open," says Parkin.
"The key is engagement with people. Access to the technology is important, but getting to know the people sustaining the engagement is just as important. And that person can be anyone – it helps if it is someone you have an existing relationship with, but anyone can be a role model."
Free access to software is a good start, but to encourage young people into engineering, there has to be engagement and understanding. Hayhurst says: "There is a need to analyse things with computers and maths. The two things mesh together, especially when the problems are hard. But in order to understand modelling software, you have to understand that it is worth doing.
"The key is problem solving, whether it is a physical or software solution."
Donnelly says: "It not just simulation and software but also the hands-on learning. And it's difficult to measure where that is taking place. The role of science centres and companies like Mathworks helps us provide teaching materials. Teachers are crying out for these things.
"It's about raising aspirations, in rural communities and to encourage diversity. You need to catch them early to stop the stereotyping."